The 2021 Subaru Love Promise Customer and Community Commitment Award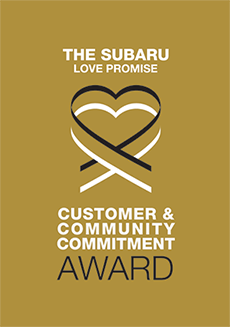 We've been nationally recognized for our dedication to our customers, our community, and the Subaru Love Promise.
We're honored to receive the 2021 Subaru Love Promise Customer and Community Commitment Award. This award nationally recognizes elite Subaru retailers who provide an exceptional customer experience at every interaction with Subaru. These retailers have also demonstrated an outstanding commitment to supporting passions and causes in their local communities in important areas such as the environment, community, health, education, and pets.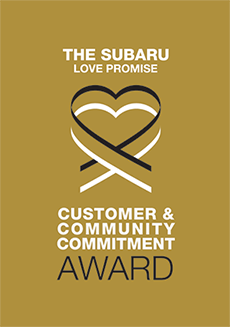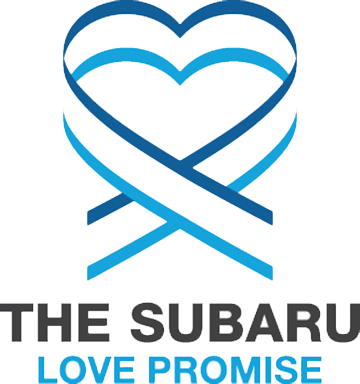 What is the Subaru Love Promise?
Subaru and our retailers believe in making the world a better place and the Subaru Love Promise is our vision of respecting all people. This is our commitment to show love and respect to our customers and to work to make a positive impact in the world.
How is Motor Mile Subaru dedicated locally to the Love Promise?
Our Love Promise can be seen in various partnerships with local charities and non-profits. We're grateful for the opportunity, not only to be a part of our community, but to serve it as well.
Love Promise Stories from Motor Mile Subaru
Subaru and Motor Mile Subaru believe in making a positive impact on the communities in which we live and work. We uphold that belief through our Love Promise Community Commitment. Every month, we select inspiring stories from customers and partners from around our area who strive to support our collective commitment and feature them here
Subaru Loves Pets-Montgomery County Animal Care an - Eileen M
Peg Leg Andy was brought into the Animal Care and Adoption Center by Officer Baker in response to a report from a rural section of the community of an injured cat struggling to walk. The family that found him had put him in box to keep him safe until she arrived. When she opened the box she found a thin, scared, pitiful cat, with one sunken eye, and an apparent injury to one of his legs. Upon examination by the vet it was discovered that sweet little Andy had serious damage to his right eye, and an old femoral fracture with serious nerve damage in his left hind leg. This type of damage if left untreated can cause further suffering later in life, and it was recommended he have both the leg and the eye removed. He was so gentle and tolerant throughout his exams, recovery and daily care, that he soon became a shelter favorite. But no one loved him more than the animal control officer who had first seen him huddled in the bottom of a box. She visited with him every day, and when a foster was need to help him recover, she eagerly volunteered! It didn't take long before he was running the house. Dogs, cats and people catered to his every whim. He fit in so well, that Officer Baker came in and officially adopted him. He enjoys playing with his kitty brother and snuggling on the couch with his dog friends. While he may not be able to climb the cat tower, he has no trouble getting up on the bed for extra cuddles. Andy has definitely not let his missing parts prevent him from living his best life! Thank you Subaru for supporting "underdogs" like Andy!
---
Motor Mile Subaru Loves to Help - Melissa E
Motor Mile Subaru partnered with the Women's Resource Center to donate over 75 blankets to them. The shelter helps battered women and children that need shelter during tough times in their life. Motor Mile Subaru was very glad that they could help those in the community who need it.
---
Subaru Adopts a Classroom - Melissa E
Motor Mile Subaru's Loves to Learn event decided to adopt a classroom at Eastern Montgomery Elementary School. Subaru understands the importance of helping local schools with resources needed for their classroom. They were able to purchase supplies and books for the children to take home. We understand the need for money to help with expenses for the classrooms and we know that this event did just that! We love supporting our community and the local schools in the area!
---
Thousands of Toys Donated! - Melissa E
Motor Mile Subaru was recognized for the many years of participating in the Toys for Tots drive for local children in need. Shelor has donated thousands of toys to unfortunate children in our community. We continue to partner with this amazing organization and collect toys throughout the year to make the drive a successful. Being able to help in our community is Shelor's #1 priority!
---
Local Schools Recognize their Staff! - Melissa E
Motor Mile Subaru strives to help in any way possible in the community. One way we like to show appreciation is to deliver gifts to employees of our local schools who go above and beyond their call of duty. Educating our children to be the best they can be is very important! Congratulations to all our successful leaders and thank you for showing love to all the students in your school!
---
Motor Mile Helps Local Pet Shelter Earn $3,100 - Melissa E
Motor Mile Subaru focused on helping our local shelter find loving homes for homeless cats and dogs! For every cat or dog that was adopted at Montgomery County Animal Care and Adoption Center the month of October, Subaru donated $100 to the shelter…. up to $3,100! They were able to have over 131 adoptions, earning the full $3,100!
---
Motor Mile Subaru Helps Local Homeless Shelter - Melissa E
In the month of November, as part of Subaru Loves to Help and in recognition of National Homeless Youth Awareness Month, Motor Mile Subaru and other Subaru retailers will be donating 50,000 blankets to nearly 600 local homeless shelters across the country to help the youth and all those that are homeless. We are happy to partner with New River Community Action and donate the blankets to our local homeless shelter "To Our House". We are very thankful to provide some comfort to our local homeless men, women and children.
---
Shelor Subaru Loves Montgomery County's Pets - Montgomery County M
Since opening in 2017 the Montgomery County Animal Care and Adoption Center has hosted dozens of adoption events, finding hundreds of pets new families. By far, some of our most successful adoption events were hosted with the assistance of Shelor Subaru. This includes two free adoption weekends, during which, the Center found new adoptive homes for 36 cats, 18 dogs and 1 pig for a total of 55 animals, and leaving the center with a record low of 13 animals in its care! Shelor Subaru has also hosted multiple donation drives in which they collected hundreds of pounds of food, treats, toys and other animal care supplies. Most recently Shelor Subaru helped us with a socially distanced adoption event for National Make a Dog's Day. This event ran from October 1st through the 31st, and helped the Center adopt out 104 cats and,13 dogs into wonderful new homes. Artemis, a sweet lab mix found himself at the Center due to the busy schedules of his previous owners. His friendly nature and exuberant energy found him the perfect home in a young active couple, who were more than happy to make this Dog's Day! (photo attached) Callie-mari, a lovely older kitty, waited two weeks for the right person to come along, but when her new owner met her it was love at first sight! She is definitely living her best life!
---
Motor Mile Subaru Shares the Love! - Melissa E
Motor Mile Subaru donated pet food to their local shelter, Montgomery County Animal Care and Control on December 19th! Motor Mile was also able to donate food to the local food bank for our community, Montgomery County Emergency Assistance Program. We are very thankful to be able to help our community during the holiday's. We know how important it is to help those in need and that is our number 1 goal!
---
Motor Mile Subaru Loves Learning Event - Melissa E
Motor Mile Subaru gave over 100 brand new books to Eastern Montgomery Elementary School during the Subaru Loves Learning Event. Eastern Montgomery plans to add the books to their library for students to enjoy!
---