The 2021 Subaru Love Promise Customer and Community Commitment Award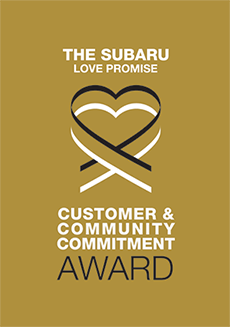 We've been nationally recognized for our dedication to our customers, our community, and the Subaru Love Promise.
We're honored to receive the 2021 Subaru Love Promise Customer and Community Commitment Award. This award nationally recognizes elite Subaru retailers who provide an exceptional customer experience at every interaction with Subaru. These retailers have also demonstrated an outstanding commitment to supporting passions and causes in their local communities in important areas such as the environment, community, health, education, and pets.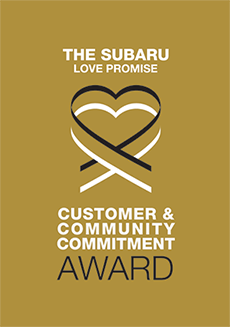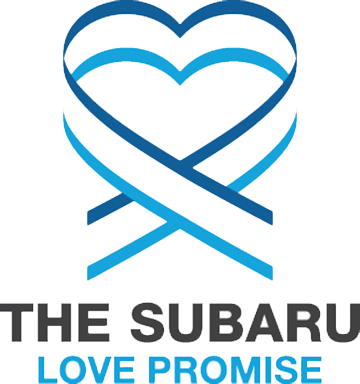 What is the Subaru Love Promise?
Subaru and our retailers believe in making the world a better place and the Subaru Love Promise is our vision of respecting all people. This is our commitment to show love and respect to our customers and to work to make a positive impact in the world.
How is Motor Mile Subaru dedicated locally to the Love Promise?
Our Love Promise can be seen in various partnerships with local charities and non-profits. We're grateful for the opportunity, not only to be a part of our community, but to serve it as well.
Love Promise Stories from Motor Mile Subaru
Subaru and Motor Mile Subaru believe in making a positive impact on the communities in which we live and work. We uphold that belief through our Love Promise Community Commitment. Every month, we select inspiring stories from customers and partners from around our area who strive to support our collective commitment and feature them here
Thousands of Toys Donated! - Melissa E
Motor Mile Subaru was recognized for the many years of participating in the Toys for Tots drive for local children in need. Shelor has donated thousands of toys to unfortunate children in our community. We continue to partner with this amazing organization and collect toys throughout the year to make the drive a successful. Being able to help in our community is Shelor's #1 priority!
---
Local Schools Recognize their Staff! - Melissa E
Motor Mile Subaru strives to help in any way possible in the community. One way we like to show appreciation is to deliver gifts to employees of our local schools who go above and beyond their call of duty. Educating our children to be the best they can be is very important! Congratulations to all our successful leaders and thank you for showing love to all the students in your school!
---
Motor Mile Helps Local Pet Shelter Earn $3,100 - Melissa E
Motor Mile Subaru focused on helping our local shelter find loving homes for homeless cats and dogs! For every cat or dog that was adopted at Montgomery County Animal Care and Adoption Center the month of October, Subaru donated $100 to the shelter…. up to $3,100! They were able to have over 131 adoptions, earning the full $3,100!
---
Motor Mile Subaru Helps Local Homeless Shelter - Melissa E
In the month of November, as part of Subaru Loves to Help and in recognition of National Homeless Youth Awareness Month, Motor Mile Subaru and other Subaru retailers will be donating 50,000 blankets to nearly 600 local homeless shelters across the country to help the youth and all those that are homeless. We are happy to partner with New River Community Action and donate the blankets to our local homeless shelter "To Our House". We are very thankful to provide some comfort to our local homeless men, women and children.
---
Shelor Subaru Loves Montgomery County's Pets - Montgomery County M
Since opening in 2017 the Montgomery County Animal Care and Adoption Center has hosted dozens of adoption events, finding hundreds of pets new families. By far, some of our most successful adoption events were hosted with the assistance of Shelor Subaru. This includes two free adoption weekends, during which, the Center found new adoptive homes for 36 cats, 18 dogs and 1 pig for a total of 55 animals, and leaving the center with a record low of 13 animals in its care! Shelor Subaru has also hosted multiple donation drives in which they collected hundreds of pounds of food, treats, toys and other animal care supplies. Most recently Shelor Subaru helped us with a socially distanced adoption event for National Make a Dog's Day. This event ran from October 1st through the 31st, and helped the Center adopt out 104 cats and,13 dogs into wonderful new homes. Artemis, a sweet lab mix found himself at the Center due to the busy schedules of his previous owners. His friendly nature and exuberant energy found him the perfect home in a young active couple, who were more than happy to make this Dog's Day! (photo attached) Callie-mari, a lovely older kitty, waited two weeks for the right person to come along, but when her new owner met her it was love at first sight! She is definitely living her best life!
---
Motor Mile Subaru Shares the Love! - Melissa E
Motor Mile Subaru donated pet food to their local shelter, Montgomery County Animal Care and Control on December 19th! Motor Mile was also able to donate food to the local food bank for our community, Montgomery County Emergency Assistance Program. We are very thankful to be able to help our community during the holiday's. We know how important it is to help those in need and that is our number 1 goal!
---
Motor Mile Subaru Loves Learning Event - Melissa E
Motor Mile Subaru gave over 100 brand new books to Eastern Montgomery Elementary School during the Subaru Loves Learning Event. Eastern Montgomery plans to add the books to their library for students to enjoy!
---
Subaru & LLS Deliver Blankets to Cancer Patients - Khiem T
Giles County, VA native Heather Fields is a 44-year-old mother of 3 and grandmother of 3 (soon to be 4). She's also a cholangiocarcinoma patient in Blacksburg. On July 10, Heather was surprised with the gift of a new blanket thanks to a partnership between Motor Mile Subaru and The Leukemia & Lymphoma Society (LLS). The two organizations collaborated to deliver 80 blankets to cancer patients at LewisGale Montgomery Hospital, as a part of Subaru's Loves To Care campaign. In addition to the blanket, Heather also received a Message of Hope written by a Kelly, a complete stranger. Kelly, along with dozens of other Shelor Motor Mile customers, composed inspiring messages to comfort the Blacksburg patients. "It was a good surprise," Heather said. "It's really nice to know that other people are thinking about me [and that] It's not just based on one type of cancer." Heather found out "by the grace of God" that she had stage 3 cancer of the liver. In a heartfelt conversation with the Subaru team, she shared that after having her gallbladder removed, she still had consistent pain as if her gallbladder were still there. She was reluctant to address the pain at first because as a nursing student she thought it was phantom pain. Three years later, she sought medical advice. The tests her doctor ordered showed perfect blood work and liver enzyme levels; however, an ultrasound later revealed abnormal blood supply in her liver. Her doctor vowed not to stop until she got to root of the problem. Ultimately, a tumor near her portal vein and legions on both sides of the liver were discovered. Doctors believe the cancer developed when her gallbladder was removed 3 years prior. Melissa Epperly, Public Relations and Marketing Manager at Motor Mile, then asked, "So it was a slow growth?" "Actually, it's an aggressive cancer," Heather responded. She went on to share that she lost some hair and started crying when it began falling out.Melissa comforted her by saying, "We're definitely thinking about you. Positive vibes your way." Heather is expecting her fourth grandchild this December, and she has every intention of being there in the delivery room. She wrapped up the visit by recounting the time her doctor asked Heather if she knew what the company Amazon was almost named before it officially became Amazon? "Relentless," which is exactly how Heather's doctor described her fight. Just as Heather is relentless, LLS is relentless in the fight to beat cancer. Motor Mile Subaru plays a critical role in that battle by spreading not only awareness but also comfort and care in the greater Christiansburg & Blacksburg area. LLS looks forward to teaming up with Motor Mile Subaru again in the years to come.
---
Motor Mile Subaru Loves to Care - Melissa E
Motor Mile Subaru were able to donate 80 blankets, along with 80 encouraging notes, to local cancer patients at Lewis Gale Montgomery Hospital on July 10th. We loved seeing all of their smiling faces and were touched by how strong they were during such a difficult time in their lives. Many patients said the chemo makes them very cold, so the blanket will be the perfect gift for them during their treatments.
---
Subaru Loves the Earth - Melissa E
Our Subaru Loves the Earth event was held for the entire month of April. We encouraged customers, employees and community partners to recycle waste streams that are commonly thought of as hard-to-recycle, including snack wrappers/bags, disposable cups and lids, and coffee and tea capsules. We are thankful for everyone who helped us save the Earth! We had a successful month at Motor Mile Subaru!
---